Career Opportunities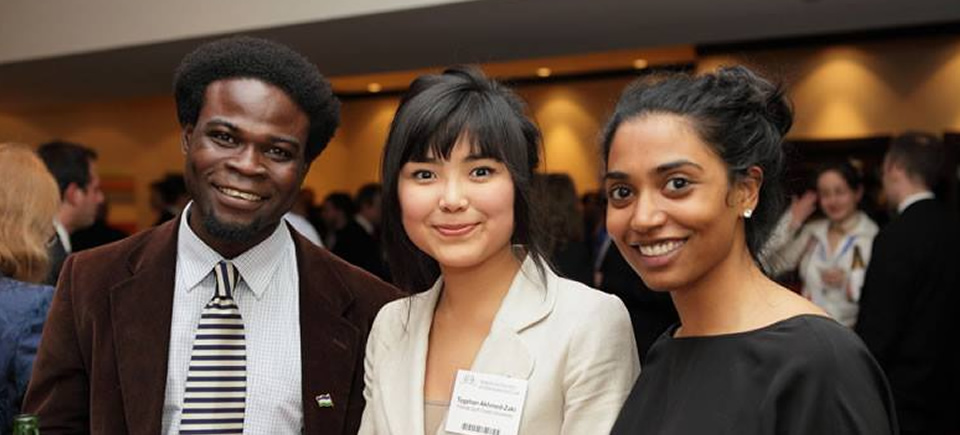 About ASIL The American Society of International Law (ASIL) is a nonprofit, nonpartisan, educational membership organization founded in 1906 and chartered by Congress in 1950. ASIL holds Category II Consultative Status to the Economic and Social Council of the United Nations and is a constituent society of the American Council of Learned Societies. The Society is headquartered at Tillar House in Washington, D.C. The mission of ASIL is to foster the study of international law and to promote the establishment and maintenance of international relations on the basis of law and justice.
The American Society of International Law is an equal opportunity employer. We do not discriminate on the basis of race, color, religion, gender, sexual orientation, gender identity or expression, age, national origin, marital status, citizenship, disability, veteran status, or on any other basis prohibited by law. We value a diverse and inclusive workforce and encourage all qualified individuals to apply.
Current Openings at ASIL
Job Description
The American Society of International Law (ASIL), the leading society of international lawyers and scholars in the United States, seeks an executive and development assistant to provide administrative support to the Executive Director and the Director of Development, manage all aspects of the Executive Office, support the Society's fundraising and partnership programs, and coordinate meetings and information for the Society's governing board and committees.
Responsibilities: The Executive and Development Assistant will serve as sole administrative support to the Society's Executive Director, Director of Development, and governing board and committees, and point of contact for the Executive Director and Development Director with internal and external organizational constituents. Responsibilities include:
Managing executive office correspondence and expenses, filing, scheduling and travel arrangements
Coordinating briefing materials, preparing agenda books, conducting research, drafting reports, and providing administrative support to the Executive Council, its committees and task forces responsible for Society governance;
Assisting the Executive Director with strategic planning and outreach efforts;
Working with the Director of Development to develop and implement strategies for recruitment and retention of donors and institutional partners and sponsors;
Coordinating communications with donors and institutional partners and sponsors, including production and mailing of donor appeals, partnership and sponsorship solicitation materials, and donor acknowledgments;
Handling all administrative matters related to the Development Committee (e.g. notices, agendas, minutes, etc.), the Nominating Committee, and Committees on Honors and Awards;
Ensuring that leadership lists and donor database records are correct and up-to-date
Qualifications: Undergraduate or graduate degree and at least two years administrative, program, or executive support experience. This position requires excellent writing skills, interpersonal and communication skills, the ability to present information concisely and effectively both verbally and in writing; exceptional organizational ability, attention to detail, and the ability to manage multiple competing priorities and consistently meet deadlines. Strong experience with Microsoft Office applications (Word, Excel, PowerPoint, etc.) required. Experience with databases [and use of social media] preferred. The ideal candidate is a team player, quick learner, and creative problem-solver who is comfortable in a fast-paced environment, has a mature, friendly and professional demeanor, and has the ability to interact effectively with the Society's leaders, donors, members, and other diverse constituencies. Experience working in an international or multicultural environment, a professional association, or both, is a plus.
Compensation: ASIL offers a competitive salary, a generous benefits package, and a stimulating, collegial work environment.
How to apply:
Please submit a cover letter with resume, references, and writing sample to jobs@asil.org. Please put "Executive and Development Assistant" in the subject line.
Job Description
The Program Officer will be responsible for the development, implementation, and administration of ASIL Department of Education activities. The Program Officer reports to the Deputy Executive Director (DED).
Responsibilities:
Support the DED and presidentially appointed committees in developing and implementing the Annual and Midyear meetings, including plenaries and program tracks, interest group sessions, continuing legal education, academic and professional development activities, and other events;
Support the DED and presidentially appointed committees in developing and implementing educational programming, including conferences, special events, interest group activities, and educational resources and research activities;
Manage the ASIL career development program, including updates to the ASIL Guide to Career in International Law, mentoring and professional development programs (in-person and online), and creation of professional development materials for use by ASIL members, Academic Partners, and Law Firm Members;
Administer ASIL's United Nations Observer program, including coordinating the accreditation and reporting obligations of authorized representatives of the Society;
Liaise with the Director of Publications and Research regarding management of ASIL Insights and International Law in Brief, and contribute written content as appropriate;
Supervise ASIL event volunteer staff, international law fellows, and interns;
Coordinate with ASIL staff assigned to assist with events;
Create ASIL website content and promotional materials for all education activities;
Assist with the design and implementation of ASIL's judicial education programs;
Assist with the design and implementation of programs to support Academic, Law Firm, and Publisher Partnerships;
Assist with the development and operation of ASIL CLE programming, including accreditation, promotion, registration, online distribution, development of new program content, and identifying and obtaining research materials;
Manage the Arthur C. Helton Fellowship Program, including developing promotional materials, coordinating the selection process, and developing and administering a post-fellowship alumni program; and
Such other program-related duties as shall be assigned by the DED.
Education: Graduate degree in international law or international relations (or similar field) required.
Minimum Qualifications: Candidates should possess the following qualifications:
Minimum of three years of experience working in the legal or non-profit sectors;
Excellent written and oral communication skills;
Ability to conduct international legal research and produce cogent written analyses under tight deadlines;
Ability to work flexible hours in support of education programs;
Program management skills, including design, implementation, and evaluation of existing and new programmatic goals;
Strong initiative and follow-through, the ability to multi-task effectively, including prioritization of competing obligations, and the ability to work under pressure;
Strong interpersonal skills; and
Strong organizational skills.
Preferred Qualifications: Candidates in possession of the following qualifications will be prioritized:
Professional experience in an international law or relations setting;
Demonstrated experience in a specific area of international law, including publications, presentations, or substantive work;
International study or other relevant international experience;
Strong public speaking skills;
Prior experience supervising staff and support personnel;
Knowledge of and experience with administering continuing legal education programs;
Experience with membership organization procedures and programs; and
Budget and financial management experience.
Compensation: ASIL offers a competitive salary, a generous benefits package, and a stimulating, collegial work environment.
How to apply:
Please submit a cover letter with resume, references, and writing sample (no more than 10 pages) to jobs@asil.org. Please put "Program officer" in the subject line.
Additional Career Opportunities through ASIL
Established in 2004, the Arthur C. Helton Fellowship Program recognizes the legacy of Arthur Helton, a prominent human rights advocate and ASIL member. Helton died in the August 19, 2003 bombing of the UN mission in Baghdad.
Funded by contributions from ASIL members, interest groups, and private foundations, Helton Fellowships provide financial assistance in the form of "micro-grants" for law students and young professionals to pursue field work and research on significant issues involving international law, human rights, humanitarian affairs, and related areas.
Helton Fellowship micro-grants are intended to ensure that these individuals have access to modest amounts of funding that can often stand between them and their first professional opportunities to become effective practitioners, experts, and scholars of international law. The fellowships are intended to help cover for travel, housing, living expenses, and other costs related to the Fellow's fieldwork and research.
Full Details
The ASIL International Law Fellows program gives recent graduates the opportunity to gain up to a year of professional experience working on ASIL publications and the development and implementation of its research, education, and outreach programs. The positions are full-time and typically of a 6-month duration. Fellows work with their supervisor to identify areas of professional interest that can be developed while working at Tillar House. They also have the opportunity to select and attend various internationally themed events in the active D.C. international community. Fellows are eligible for a one-time, $2,500 travel stipend, but the position is otherwise unpaid. Applicants are strongly encouraged to identify and obtain alternative sources of funding. Fellowships typically start in January, April, July, and October.
Full Details
Start Your Career with an ASIL Internship. ASIL offers students opportunities to become involved with its work while learning first-hand about the field of international law. See descriptions below of the specific internship positions available with the Society and how to apply. All positions are based at ASIL's Washington, DC, headquarters and generally require a minimum commitment of 15 hours per week during the fall and spring semesters and usually more during the summer. All internships are unpaid; however, interns may be eligible to earn academic credit through their school. During their internship, participants are encouraged both to attend ASIL events and to take advantage of the plethora of programs in international law and foreign relations that the DC area provides.
Full Details
Additional Career Resources
The longest running formal career development resource at ASIL, the Careers in International Law: A Guide to Career Paths in International Law is an invaluable publication for everyone from pre-law majors to current lawyers looking to move into the practice of international law. Available for over 15 years, the guide has always included personal insights into the practice of international law from global leaders in the field.
Full Details
The ASIL Job Board is a place where members of the international law community are invited to submit news of jobs and/or internships for which ASIL members might apply. Access to the jobs and internships listed on the Job Board is available to ASIL members and faculty and students at ASIL's Academic Partner schools. Questions about the Job Board should be directed to the ASIL Service Center at services@asil.org or +1-202-939-6001.
Full Details