The Hudson Medal Luncheon recognizes and honors the recipient of the Manley O. Hudson Medal, the highest annual award given by the American Society of International Law to individuals for significant contributions to the field of international law. This year's Hudson Medal was presented to Georges Abi-Saab, Honorary Professor of International Law at the Graduate Institute of International and Development Studies in Geneva, having taught there from 1963 to 2000. He is also Honorary Professor at Cairo University's Faculty of Law, and a Member of the Institute of International Law. Professor Abi-Saab is a former ad hoc Judge of the International Court of Justice, a former Judge of the Appeals Chamber of the International Criminal Tribunal for the former Yugoslavia (ICTY) and International Criminal Tribunal for Rwanda (ICTR), a former Commissioner of the United Nations Compensation Commission, and former Chairman of the Appellate Body of the World Trade Organization.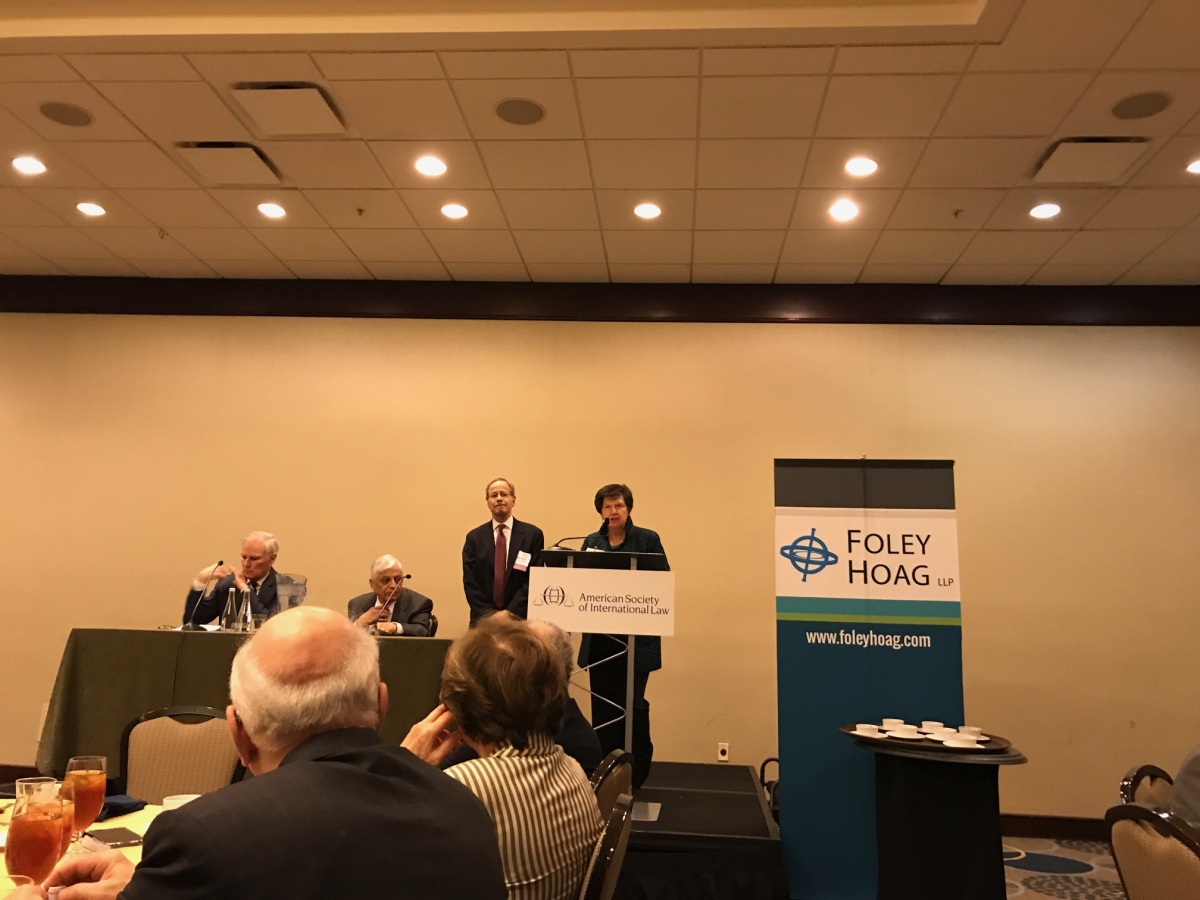 The highlight of the Luncheon was the interview of Professor Abi-Saab, facilitated by Professor Philip Alston, of the New York University School of Law. The conversation started with President Lucinda Low's introduction of the two speakers and highlights of their tremendous achievements.
Professor Alston started by asking about Professor Abi-Saab's relationship with Professor Hudson. Professor Abi-Saab shared a story of his personal relationship with Professor Hudson, when he was a law student back in Harvard Law School in the 1960s. Professor Abi-Saab then talked about starting his career in the field of international law, a fascinating path from a PhD in economics to successful scholar and professor in the field of international law. Professor Abi-Saab shared his insights on international law, talking about the value and importance of looking at international law from a perspective of system and institutionalization. He stated that we as international lawyers need to be able to examine the special features and weakness of the international legal system, recognizing that international law is based on and shaped by the environment we live in.
Professor Abi-Saab also shared his wisdom regarding the historic development of the civil law and common law systems in terms of jurisdictional restraints on international trade. The conversation ended with a great discussion of the de-construction and re-construction of the international legal regime, as he said "international lawyers need to be able to present a legal blueprint of the system and understand how the key elements of the system will actually work together."
Junteng Zheng is a public international lawyer based in D.C. He studies and works on public international law and international criminal law.