Moderator: Susan Franck (American University Washington College of Law)
Speakers: Josephine Dawuni (Howard University), Meg Kinnear (International Centre for Settlement of Investment Disputes), Kate Parlett (20 Essex Street), and Liesbeth Lijnzaad (The Netherlands Ministry of Foreign Affairs).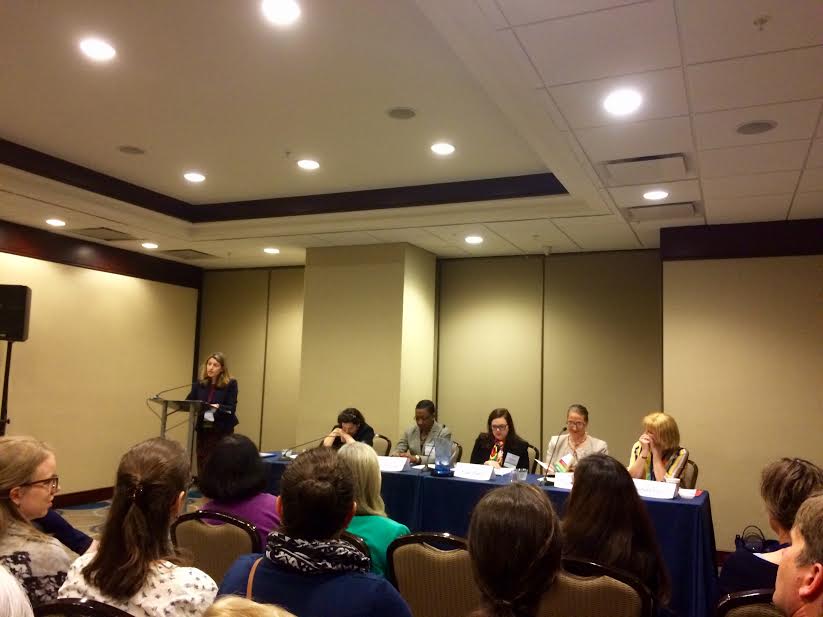 The conference room was absolutely packed with women (and a few men) on this early Saturday morning.
Susan Franck introduced data on the percentage of women in the judiciary in several countries: 36% in Venezuela, 30-33% in the US, 40% in Germany, 20% in England, and 15% in Japan. Roughly 9-12% of arbitrators are women.
Meg Kinnear: International Centre for Settlement of Investment Disputes (ICSID)
Meg Kinnear focused on appointment issues and access to leadership roles, in particular in ICSID. There are two levels of appointments (tribunals and panels), and usually there will be 3-person panels (two as party appointees). For annulment panels, the Chair of the World Bank has to select from a pool of arbitrators constituted by the states, which leads to three consequences:
75% of tribunals are appointed by the parties, so counsel have a huge role in appointing women.
Out of 153 states, 120 have named to the list for the annulment panels. There are 433 arbitrators on the list, of which 60 are female (14%).
There is a need to make sure that the pool, from which ICSID appoints the chair of a panel, is capable and credible. Some important factors that are taken into account when constituting the pool is gender, region of the candidate and whether the candidate is a newcomer. The pipeline is incredibly important, as you need people who have the necessary qualifications, which involves a whole career of counsel and academic work.
ICSID has also taken some proactive efforts, such as publishing statistics on the number of female arbitrators, which provides accountability and makes the organization work throughout the year towards obtaining the desired numbers. ICSID has also introduced a "ballot", meaning that, before going to the roster, ICSID puts together a list of around 5 candidates – of which at least one has to be female. Even when the parties do not select someone from the ballot, it has the indirect effect of launching those candidates, and then some time later counsel might appoint one of them.
Kate Parlett: Women as Counsel
Kate Parlett gave an overview of the numbers of pending cases: around 25 for interstate cases, and between 200 and 250 for investment arbitrations. Given the small pool of available cases on the interstate side, it is a hard field to access, not just for women and not just for other diverse groups. Women represent 11.2% of all advocates at the ICJ, and speak 7.4% of the time.
The traditional pool of counsel for interstate disputes has been law professors and government legal advisers, and more recently barristers and law firms. Investor-state cases are mostly led by law firms. There tends to be much better representation of women counsel in the second and third rows, so over time we can hope that women progress to senior levels.
In 2014 about 30-35% of UK barristers were women. In the latest years women are being called to the bar in parity with men, but there is a big drop off when it comes to actually practicing.
Regarding law firms, a recent paper by Stanford Law School on how to retain and advance more women concluded that it is not just a matter of time for it to be corrected, and working against retention and advancement is unconscious bias in evaluations, mentoring and promotions.
Liesbeth Linjzaad: Public International Law
Liesbeth Linjzaad addressed how the nomination process for positions in international litigation works. The process depends on the appointment criteria and whether the participating country has a guaranteed seat in the organization (like the ECJ), or whether it is a competitive process (like the ICJ with only 15 seats).
Appointment processes have two stages:
Domestic stage: The domestic stage is usually overlooked in discussions about underrepresentation of women, but it is important as it reflects on the identity of the state and how it wants to be perceived by the international community. She explained that The Netherlands has established a standardized procedure for nominations to courts where they have a seat.
International stage: She explained the case of the ECHR, where member states send a list of three national candidates to the Parliamentary Assembly. At one point the Parliamentary Assembly said that they would no longer admit single-sex lists. This led to an opinion of the ECHR about the authority of the Parliamentary Assembly, in which Malta argued that there were no women with human rights experience, even though this excuse was not valid as they could nominate nationals from other countries. The ECHR amended the rules slightly, saying that only under exceptional circumstances could a state submit a single-sex list.
Josephine Dawuni: The African Perspective
The main problem when you look at the judiciary in the African continent is the unavailability of data, so we know very little about the numbers.
Regarding international tribunals, the African Court of Human and People's Rights is the most balanced court in the world – although this was not the case until October last year – and it has done remarkable work. The ICC and ICJ have the aspirational target of having more women judges, however at the subregional level the ECOWAS Court of Justice does not have that aspirational target of having more women judges. In this case, it is interesting to see that, since the ECOWAS court was created in 2001, around 29% of judges have been women, which shows that even when those targets are not there, women have still made progress.
The moderator then posed two questions to the panel: Is there even a problem of lack of gender representation; is the numerical disparity meaningful? If there is some kind of problem, what are the factors contributing to the demographic challenges?
Meg Kinnear argued that, if you have an international system that is going to be credible and sustainable you need to represent "who is out there". She highlighted that, even though we have more women in the pipeline, we need to focus on making them reach those senior positions and not drop off.
Liesbeth Lijnzaad expressed concern about the discussion of women because it seems to rely on women having a different perspective, which is both true and dangerous. Because international law deals with the position of people, it does matter that there is an inclusive perspective, and women also want to be involved in the crucial steps of developing international law.
Josephine Dawuni argued that we should not focus on the difference women make, but rather on the fact that they have a right to be there, even though in some cases the difference does play a role. One of the concerns is profile-building, as in many cases the issue is not knowing about the women that are doing great things.
Kate Parlett mentioned that practical things can be done both by men and women; for example, women tend not to put themselves forward as much for opportunities.
Isabel San Martin is a Research Assistant at the London Court of International Arbitration.