This panel brought together excellent experts of various professional backgrounds who shed some light on the most pressing issues in the field of space law.
Moderator: Oonagh Sands (Eversheds Sutherland)
Speakers: Robin Frank (Office of the General Counsel, National Aeronautics and Space Administration), Andrea Harrington (University of Mississippi School of Law), Christopher Hearsey (Legislative Affairs, Bigelow Aerospace, LLC), Theresa Hitchens (University of Maryland Center for International and Security Studies)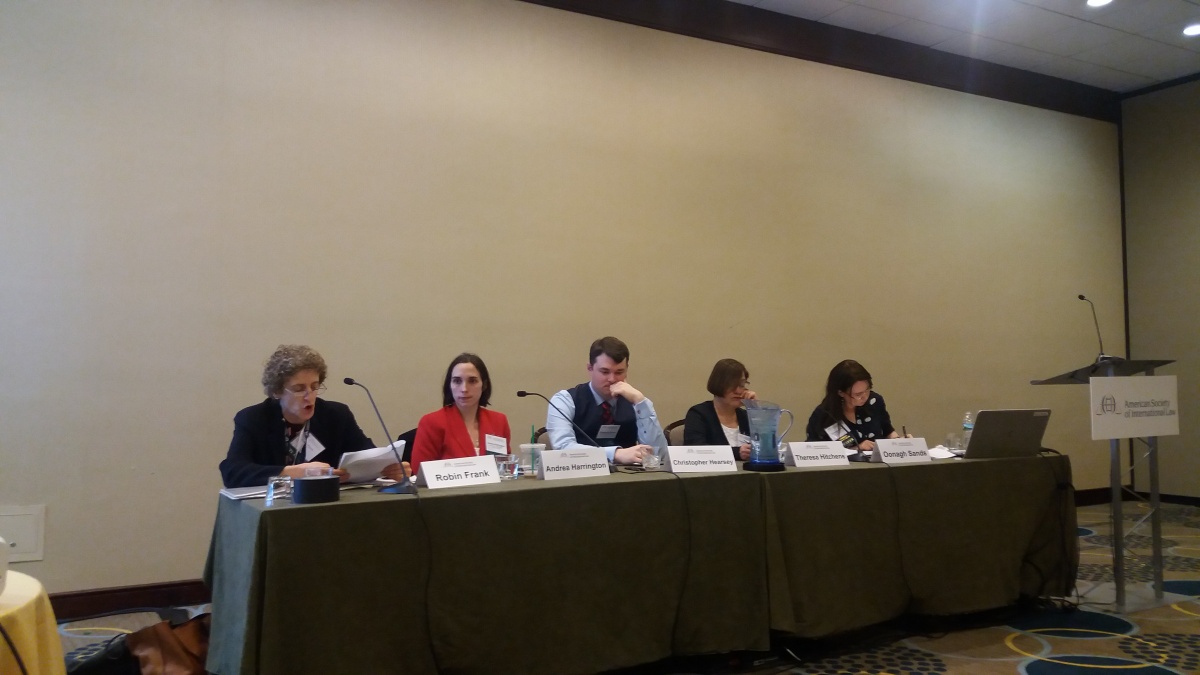 Our life on Earth is becoming increasingly dependent on outer space. For instance, data obtained from satellites are now used not only for military or law enforcement purposes, but also for daily operations by applications installed in our smartphones, such as Uber, weather forecast apps, etc. With a rapid development of new technologies, new actors (including private entities) are ready to join the exploitation of outer space and celestial bodies.
Such a development raises important legal challenges, mainly concerning the regulation of space traffic and liability of actors participating in outer space activities. Ms. Oonagh Sands, the moderator of the panel, opened the discussion by asking critical questions as to whether there is a coherent set of rules to govern outer space activities and whether the Outer Space Treaty, which celebrates its 50th anniversary, is still fit to regulate outer space activities in the modern context.
With respect to these questions, Ms. Andrea Harrington, professor at the University of Mississippi School of Law, elaborated in her speech on the basic principles of space law and relevant legal sources governing this lex specialis field of law. She pointed out that 50 years ago, the first artificial satellite - Sputnik 1 - was launched to space and that this event was crucial for the further development of space law. Even though Sputnik 1overflew territories of several sovereign states on its way to orbit, none of these affected states presented any formal objections to such use of their territories. Such conduct was described by many as a formation of the so-called "instant custom," stating that there is a right to free passage and right to overfly other states' territories for the purposes of peaceful exploitation of space. Nowadays, the use of outer space is governed by several multilateral treaties, including the Outer Space Treaty, Moon Treaty and various other treaties regulating the use of telecommunication and radio frequency technologies in outer space. 29 sovereign states have incorporated in their domestic legislation rules governing the use of outer space. As to the question of viability of the Outer Space Treaty in a new era of space exploitation, Ms. Harrington offered a detailed analysis of the most relevant provisions of the said treaty, whilst pointing out some practical difficulties and even gaps in regulation. For instance, it seems that the Outer Space Treaty does not give an answer to an important question of how much debris a state can create in outer space without committing an unlawful interference with other states' rights. State practice shows that states have somehow set aside the regulation of debris-creating activities in outer space. This can be illustrated by an example from the year 2008, when China blew up one of its satellites for purposes of testing an anti-satellite weapon, which resulted in creating a considerable amount of debris that still circulates in space. The destruction of the satellite was performed without any prior consultations with other states, despite the obligation to seek consultation being set forth in Art. 9 of the Outer Space Treaty. However, since no claim for alleged violation of Outer Space Treaty was raised, states seemed to have accepted such conduct.
As was confirmed by Ms. Robin Frank, the UN Committee on Peaceful Use of Outer Space (of which Ms. Frank is a member) is currently most concerned with the issue of finding the best model for regulating outer space activities.
Mr. Chris Hearsey, as a representative of Bigelow Aerospace, LLC, offered a valuable insight from the perspective of a private company taking part in outer space activities. He expressed the view that there is a need for a regulation that (a) does not impose too much burden on private sector activities, and (b) increases the level of cooperation between various actors in exploitation of space. For example, national legislators and the international community should focus their efforts on imposing registration notice for any space mission, which would lead to better coordination of activities in outer space. Better coordination is the most important and crucial element in further development in space activities.
The last panelist, Ms. Theresa Hitchens (senior research scholar at the University of Maryland Center for International and Security Studies), summarized the need for effective regulation in outer space activities. When performing their activities in outer space, every actor in space has a potential to harm other actors. Ms. Hitchens gave a few very practical examples. Firstly, the problem of debris was discussed. Certainly, debris circulating freely in orbit represents a potential risk and should be removed. However, under general principles of space law, debris created in outer space remains the possession of a state that created it. Therefore, even if there was a company operating in a private sector that offered a technology to "hoover" debris from space, such an operation would require permissions of all states, including the legal owners of debris, which would obviously represent an impediment. Secondly, the issue of the liability of private actors is not to be underestimated. As an illustration, there might be a private company with technology allowing it to operate a mining facility on a given celestial body, e.g. an asteroid. It may happen that by operation of this mining facility for extraction of some precious metal, a considerable amount of mass is removed from the asteroid, causing it to change its orbit and become a collision hazard for Earth. How would the complex issue of liability be treated in this hypothetical (yet not so unreal) scenario? What should a legal regime of resources on celestial bodies be? Could they be subject to appropriation by a state or private company?
To conclude, space law is the field of law that certainly requires further development in the years to come. This field is particularly open to the so-called evolutionary interpretation of treaties, which would allow the Outer Space Treaty to remain fit for use even after fifty years of its existence. Soft-law instruments, such as International Space Debris Guidelines, appear to have specific relevancy, mainly as a means to fill in the existing gaps in regulation.