This panel brought together jurists with an impressive level of expertise, who discussed the recent development of case-law in the field of international environmental law. The valuable contributions of the panelists drew from their first-hand experience in environmental law litigation.
Moderator: Catherine Amirfar (Debevoise and Plimpton LLP)
Speakers: Ximena Fuentes (Chilean Ministry of Foreign Affairs), Charles di Leva (American University Washington College of Law), Andrew Loewenstein (Foley Hoag LLP), Daniel Magraw (John Hopkins University School of Advanced International Studies), Cymie Payne (Rutgers University School of Law – Camden)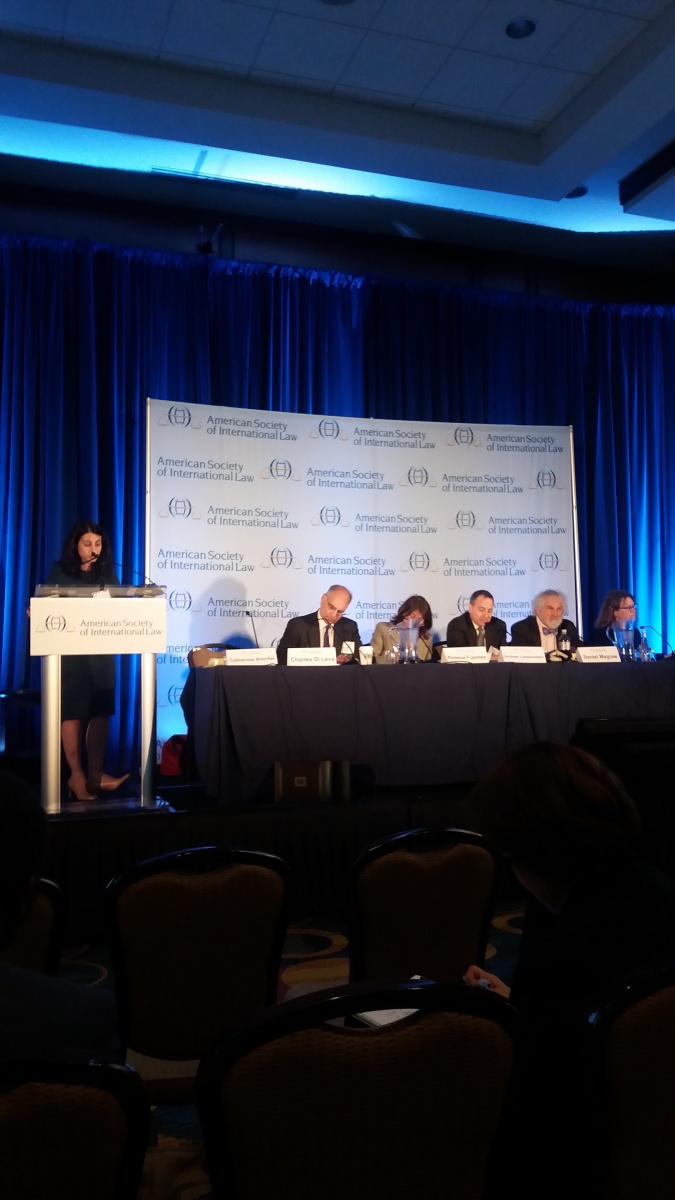 The attention was focused on jurisprudence created by various international adjudication bodies, including the International Court of Justice (Pulp Mills case) or Permanent Court of Arbitration (The South China Sea Arbitration; or Indus Waters Kishenganga Arbitration).
The panel discussed environmental law issues from different perspectives, including the human rights perspective. Environmental issues may very well fall into the scope of protection granted by the regional human rights instruments. In their decision-making process, regional human right courts tend to apply even those environmental standards that are not yet binding, such as soft-law guidelines.
Human rights aspects in legal disputes concerning the environment are also relevant when interpreting certain principles of environmental law, such as environmental impact assessment ("EIA"). The legal nature of EIA was greatly elaborated in the Pulp Mills case. One of the views expressed by the ICJ judges is that EIA does not actually form part of customary international law, but represents an effective means of satisfying due diligence obligations. Despite the discussion on the customary or non-customary nature of EIA, there is one intriguing aspect of this phenomenon that the ICJ has left open after the ruling in Pulp Mills. Is it a requirement stemming from human rights obligations that the EIA is performed in cases when activity subject to EIA might potentially have an impact on enjoyment of human rights? Furthermore, is it necessary to allow the general public to comment (or otherwise participate) in EIA? The future development of environmental law will most probably deal in more detail with interference with human rights requirements.
In addition to various international adjudication bodies, domestic legislators and domestic judicial bodies should also play a crucial role in further development of environmental standards. From this perspective, it is clear that numerous and various actors are involved in deciding environmental disputes and interpreting legal rules in the field of environmental law. Therefore, there exists a certain level of fragmentation of international law. This particular aspect was discussed and one crucial question was asked: "Is it time to establish an independent international environmental law tribunal?" Out of four panelists, only one expressed a positive attitude to this idea, whilst the others remained skeptical. During the discussion session, when this question was directed towards the audience, it seemed that majority of the audience was persuaded that there is no need to establish an independent international environmental tribunal.
A very interesting point in this discussion was made by Ms. Ximena Fuentes, who recognized that the need to assess complex scientific evidence is a valid argument in favor of the creation of an independent environmental tribunal. It is clear that environmental legal disputes do represent a specific evidentiary burden, which was in fact confirmed by the rest of the panelists. In Pulp Mills, as it was pointed out, 10.000 pages of scientific study was produced as documentary evidence. For this reason, the deeper involvement of scientific experts in judicial proceedings might appear to be beneficiary. Such experts might even sit as judges in environmental tribunals despite their lack of legal training. Ms. Fuentes described her personal experience when she served as a judge in a domestic tribunal in Santiago (competent to hear certain environmental cases) together with an expert in a relevant scientific domain. Such composition of the bench eventually turned out to be beneficial for the decision-making process of the said tribunal.
To conclude, environmental law is certainly still under development. The future will show how domestic and international tribunals shall tackle various legal challenges, such as establishing causal links in complex cases arising from claims on climate change, providing a legal definition of sustainable development, or defining the scope of application of a human right to water.