On April 14, Gary Hufbauer [3] of the Peterson Institute chaired a discussion on trade policy in the Trump Administration's first 100 days, with four well-informed panelists: Rachel Brewster [4] of Duke Law, Warren Maruyama [5] of Hogan Lovells, Aaditya Mattoo [6] of the World Bank's Development Research Group, Michael Smart [7] of Rock Creek Global Advisors.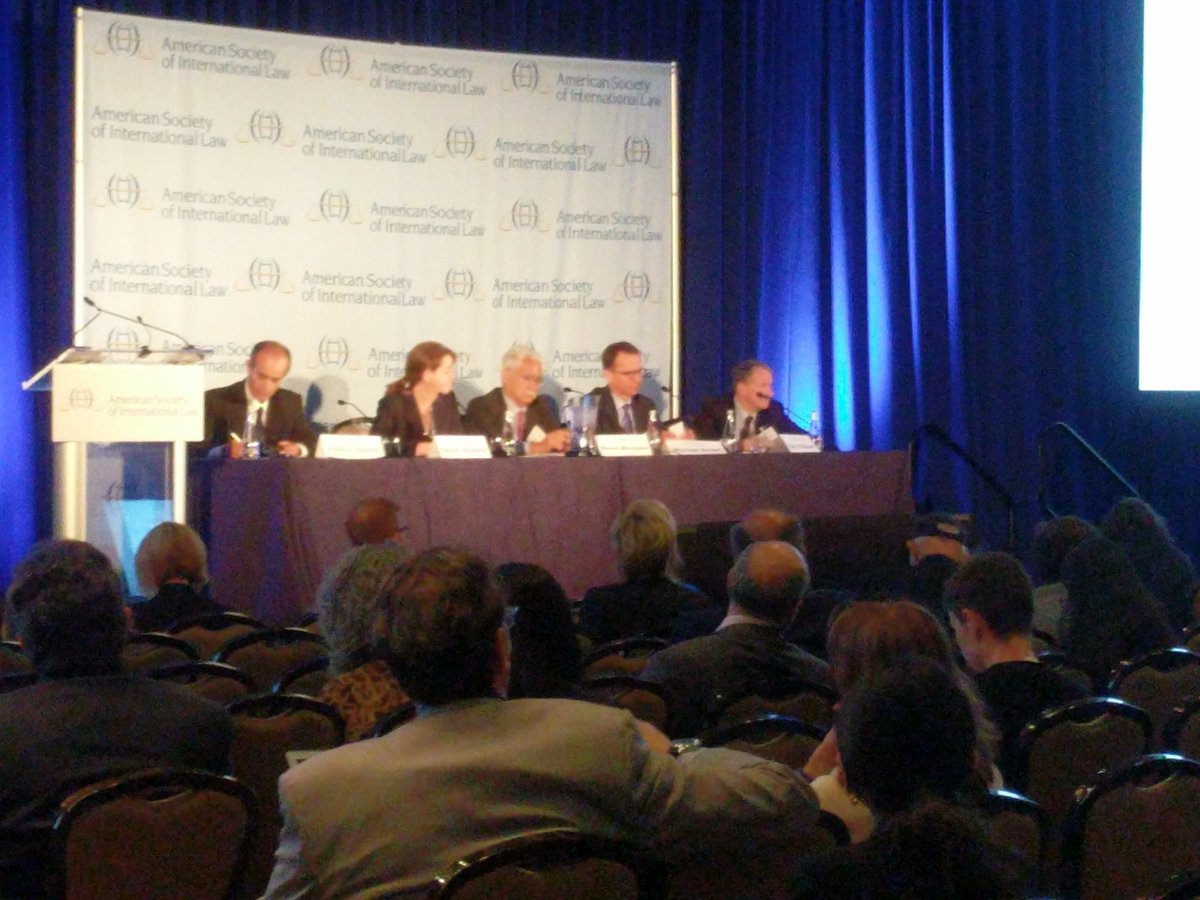 Mattoo set the scene for the discussion by analyzing the recent backlash against globalization.  In his diagnosis, the backlash may be a historical inevitability, linked in part to the catch-up of China -- but it is narrow in scope.  The backlash is not just against trade, but against misplaced redistribution. He cited recent economic analysis [8] finding that due to increased mobility of firms and high-income workers, personal income tax rates have gone up for middle-income workers and down for the top 1%, favoring mobile capital that can escape to low-tax jurisdictions.  This is an age of insecurity which demands a new approach to liberalizing trade, he said. Governments need to shift from reciprocal liberalization to a model where an exporting country provides commitments that it will meet importing country regulatory standards – as in the Privacy Shield negotiations on data flows.
As the panel shifted to Trump's trade policies, Maruyama argued that Trump's actions since exit from TPP have been comparatively restrained, with no NAFTA withdrawal, and leaked objectives for NAFTA renegotiation that include ideas from TPP. Trump has announced that China will not be designated as a currency manipulator; for months there has been no reference to high tariffs on China; and the Xi summit has resulted in a 100-day bilateral negotiation. He noted pressure by US agriculture for non-interference with Mexico and China, its largest markets – and that agriculture is a key element of Trump's base. But Trump's blue collar voters also remain a source of pressure on trade. Brewster noted the opportunity costs of the loss of TPP, as countries reconsider the US as a partner. Smart pointed to Trump's difficulties with Congress and to the large number of policy positions still unfilled, including at USTR. While Trump wants bilateral trade agreements, partners will wait and watch NAFTA renegotiation. If the administration pushes to restrict the current NAFTA market access, renegotiation will not be easy.
Will the Trump Administration turn away from WTO, toward self-help under Section 301? Brewster argued that this would not serve the US, because one-off negotiations backed by threats of unilateral action will not be seen as effective or legitimate.  Maruyama noted that a government can always ignore a WTO decision, but it will face sanctions, and US trading partners have demonstrated they know how to impose trade sanctions that will persuade Congress. US administrations since the 1990s have consistently signaled the WTO that it must be cautious if it goes beyond agreed text. Smart noted that the US has been cautious as a plaintiff, making sure that it will win any case it brings. But USTR-designate Lighthizer has urged less caution and more imagination for cases against China.
Turning to trade remedy enforcement, a central element in Trump trade policy, Smart said the US has strong enforcement, with about 400 antidumping and countervailing duty (AD/CVD) orders in place, 50% up from 10 years ago; US AD/CVD activity is higher than any other G20 member. The Trump Administration has committed to being more aggressive and has talked about self-initiation of cases, but there are practical limits on what it can do. He noted Lighthizer's statements that WTO dispute settlement has lost its way and that the Appellate Body has been inventing new obligations never agreed to by the US. Brewster pointed out that if Trump's trade policy consists of a focus on trade remedies, it is very much coloring within the lines. But other countries are also trade remedy users; China is very interested in trade remedies and is using trade remedies against US exports.
Asked about the House Republican proposal for a border-adjustable tax (BAT) on cash flows, Maruyama said the BAT would not pass muster in the WTO – it is not a "tax on the product" under GATT rules. It would trigger a dispute by virtually all WTO members against the US, the US would lose, and the ensuing "mother of all trade retaliations" would cut off most US exports.  Maruyama and Smart agreed that the BAT's prospects have waned. Smart observed that proponents could have argued that the BAT causes no distortions and dollar appreciation will eliminate any problems—but since their audience was Trump, they argued that it would level the playing field, raise import prices and make exports cheaper. That argument opens the BAT to criticism that it taxes Wal-Mart shoppers so that large exporters can be tax-free.  He noted that support is strong for a shift to a territorial basis for income taxation, and with territoriality comes a need for measures to prevent base erosion and profit shifting. If the package does not include the cash flow tax, it will need something else to replace it.
Asked about NAFTA renegotiation, Maruyama said it is not yet clear whether the result will change the trilateral agreement or create two new separate agreements. But if the deal involves any change to US law, it must be submitted to Congress, and Trump will have to invest political capital in getting a trade vote opposed by his base – which wants NAFTA gone, not fixed. This vote would be difficult before the 2018 election.  Smart noted agriculture as the single largest moderating influence on administration NAFTA demands: for exporters of corn, beef and dairy, Mexico is a key market and these are Trump voters.
Amy Porges practices international trade law [9] in Washington, DC.