Presenters: Jeffrey Dunoff and Mark Pollack, Temple University School of Law; Yuval Shany, Hebrew University of Jerusalem; Judge Julia Sebutinde, ICJ; Judge  Helen Keller, European Court of Human Rights;
This panel posed important questions that cut across various forms of dispute resolution as well as the cultural and institutional expectations of different legal systems. What values do international courts advance? How are those substantive and/or process values advanced?  What strategies are used to advance those values? The speakers looked at these questions across international, national, and supranational courts and panels to identify and analyze the values at stake for adjudication in global, regional, and local contexts.
Judge Sebutinde: Judicial Values at the World Court
Four values are essential to courts, in her view: 1) judicial independence: the ability of judges to decide on law and fact -- free from external influence where the conditions of service of the judges are stable and consistent; 2) judicial impartiality: actual and apparent impartiality manifests when the judge is as unbiased as possible and follows ethical guidelines, personally and professionally, to avoid recusal or removal; 3) accountability, that is, critique and review of the opinions and practice; and closely related, 4) transparency, where secrecy is used only for deliberations and the work of the court is open to public scrutiny and periodic review, to advance public trust in its fairness. When there are vacancies, a process of political endorsement of candidates proposed by states and regions ensues, and the full effect of this selection method was not foreseen.
Judge Keller spoke about values that are reflected in her work with the European Court of Human Rights. There, when applying the European Convention on Human Rights, there is a need to balance competing complaints. A dilemma for the ECHR is one of equal application to member states balanced with particular cases: are the rights inherent? In times of crisis, such as the economic troubles, migration issues and terrorism in Europe now, there are questions of threats to the rule of law, as in the cases of Hungary, Poland and Turkey.  Impartiality and independence are very important, but again, at the time of candidacy on the court, there is a need to be on good terms with one's country's foreign office while retaining impartiality. She believes in the sincere effort to maintain this. Perfect impartiality is not possible, in her view. Determining interference of authority is necessary may bring in values of democracy but these can be understood differently.
Yuval Shany also works in the context of human rights in the United Nations and spoke about overlapping norms, competing and conflicting jurisdictions.   He asked if a case that was not taken by one institution should be given preference in another order of institution, that is, another human rights tribunal. Should higher value be given to procedural order and state consent or to finding our way to the individual human rights? He provided the example of the Dublin procedure cases in the European Union. This procedure has been adopted as a set of rules that the state in which individual refugee may be sent back to the country of first entry. Should they be sent back to countries such as Greece or Italy where migrant overflow makes capacity for accommodation very stressed? Should the non refoulement principle be overridden in such cases, or should it control? This could result in inhuman and degrading treatment running afoul of the European Human Rights Convention. This clash of values may have had dramatic political ramifications -- norms that should be universal are now particular. Even UN norms should harmonize with European human rights, but they can result in incompatible results as happened in another case he discussed arising in the United Kingdom. He warned that we must be mindful of the ideology and context.
In the last presentation on the panel. Jeffrey Dunoff and Mark Pollack proposed a framework for analysis of conflicting norms in courts by examining the interactions among different values within a single court. They looked at the Appellate Body of the World Trade Organization and saw that three of the most important values are in tension, and they constitute three of the major "design elements" used in creating all modern dispute resolution mechanisms:
Judicial Independence: judges deciding based on law and facts, free of external influence but they are not unconstrained and have checks on their power;
Judicial Accountability: judges have terms of office and re-election is the tool to review performance hold them accountable;
Judicial Transparency: the public has the ability to identify an individual judge's vote or opinion.
Through surveys of judges and research into the interplay among the factors, Dunoff indicated that they found that a judicial system can maximize only two of three and inevitably, this compromises the third value. It is hard to get all of them to work together. (During questions, Dunoff explains that they left out impartiality because it inheres in the values of the individual judge, whereas their trilemma addresses the design of the institution as a whole, so it is structural.)
He illustrated this by describing how three transnational courts have handled it:
ECJ: this court has high independence and high accountability, but less transparency because no dissent or separate record of vote. (Later on Judge Keller pointed out that separate opinions of Advocates-General mitigate this. She also had to point out that the civil law approach of looking at a court as an institution rendering one opinion as one institution is a value in itself. The Anglo-American court is a bench of several judges. It is a different understanding.) Judges opted for low transparency to maintain their independence.
ECHR: this court has high independence and high transparency but low accountability.  They release separate opinions -- originally they had limited terms of office, but this was not sustainable. When states started to retaliate against them, they changed the terms to a non-renewable nine year term.
ICJ: this court has high accountability and high transparency but independence is less clear. Re-election may create pressures that limit independence.
They found implications for WTO when the U.S. successfully blocked a judge, and so the WTO Appellate Body has had to live with less independence. Transparency and accountability remain relatively robust. The WTO aims to overcome this, and has been largely a successful institution making trade disputes more stable in their resolution.
This fascinating analysis will be the subject of a forthcoming publication.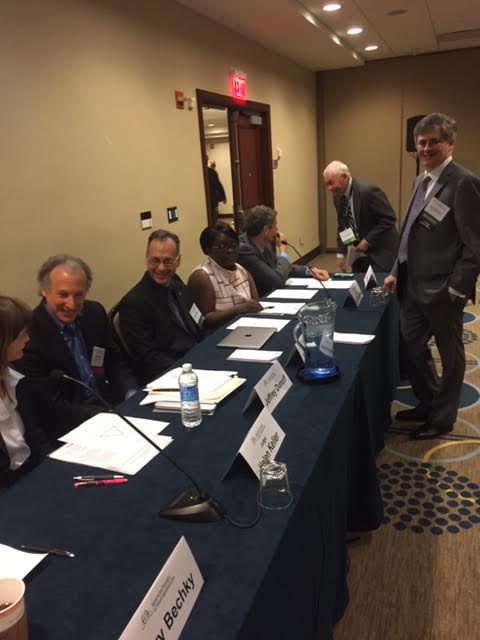 Marylin J. Raisch is the Associate Director for Research & Collection Development and Adjunct Professor of Law at Georgetown Law