Monthly Giving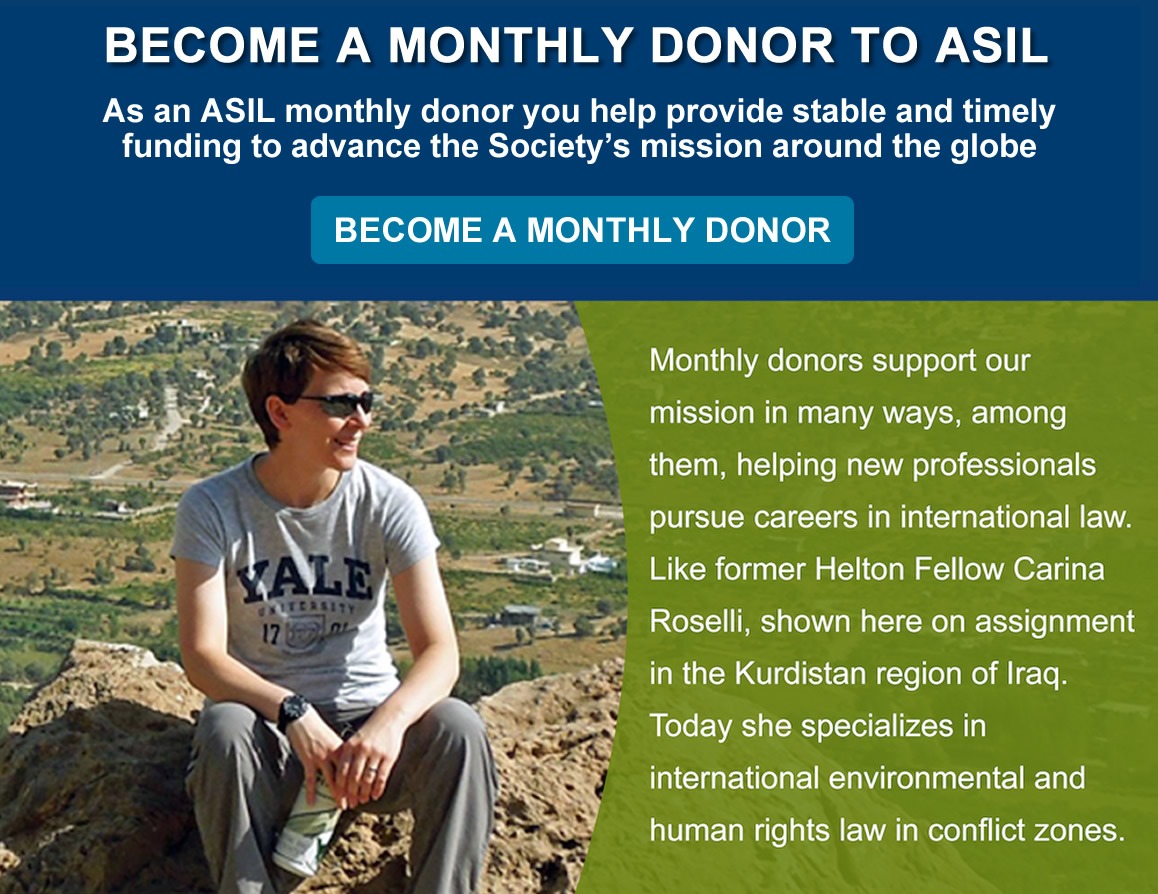 Supporting the Society just got easier
ASIL members and friends can now make automatic monthly contributions to the Society via credit or debit card.
Just Look at What Monthly Gifts Can Do:
$35/mo. = 1 ASIL Insight to provide a concise and informed explanation of a topical issue in international law
$110/mo. = 1 ASIL Webinar to promote public understanding of an emerging issue in international law
$125/mo. = 1 Thomas M. Franck Scholarship to underwrite the participation in the ASIL Annual Meeting of an international law expert from a developing country
$167/mo. = 1 Arthur C. Helton Fellowship to support a new professional's pursuit of field work in international law
Monthly gifts are applied wherever needed most, unless designated to a specific fund.
It's simple and easy to become a monthly donor. To join this important new ASIL giving program, go to www.asil.org/donate.
Advantages to the Donor
Monthly giving contributors gain several advantages, such as:
Avoiding year-end cash flow challenges for charitable giving
Increasing the flexibility of giving by having the opportunity to increase, decrease, pause or stop a gift at any time
Enabling the contributor to reach a higher category of support for the Society by giving smaller monthly gifts that add up to a larger cumulative total at year end
Advantages to the Society
Monthly giving provides the Society with a regular and predictable source of income to support the advancement of international law. It also reduces the cost of processing contributions, allowing a greater portion of contributions to be available to support programs and services directly.
Simplicity in Giving
Monthly giving is easy: Decide how much to contribute each month; click here; and complete the online gift form, including gift designation category. For assistance, call or write to the ASIL Service Center: +1-202-939-6001, services@asil.org.
Frequently Asked Questions
How soon can I begin Monthly Giving?
You can begin anytime. Once you have indicated your intention to give monthly and provided information for your first payment to be charged, you will receive a written notification confirming the amount of your monthly transfer.
Can I change the amount of my monthly contribution?
To change your gift at any time, please call ASIL Services at (202-939-6001)
What if I have questions about my credit card statement?
Call ASIL immediately. Our ASIL Services representative will work with you personally.
Is my contribution tax deductible?
Yes! You will receive a tax receipt each January stating your total giving from the previous year.
How can I discontinue my automatic charges, if necessary?
Simply call ASIL Services (202-939-6001), or send your request in writing to the ASIL Development Office, 2223 Massachusetts Ave. NW, Washington, DC 20008. You do not need to notify your bank.